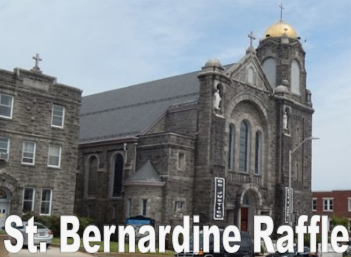 Help support our sister parish St. Bernardine by buying a ticket for their $10,000 raffle!
Drawing: March 26, 2023 at approximately 12:30 p.m. You need NOT be present to win.
Only 200 tickets will be sold at $100 per ticket.
Each ticket may include up to four names of participants to share the prize equally.
Only one winning ticket will be drawn for the $10,000 prize. (St. Bernardine reserves the right to convert this into a 50/50 raffle if fewer than 150 tickets are sold by the deadline.)
Purchase a ticket by 4:00 p.m., Friday, March 24, 2023.
An EARLY BIRD DRAWING for $100 will be held on Super Bowl Sunday, February 12, for all tickets sold through that date. The winning ticket will be returned to the pool and will remain eligible for the $10,000 prize.