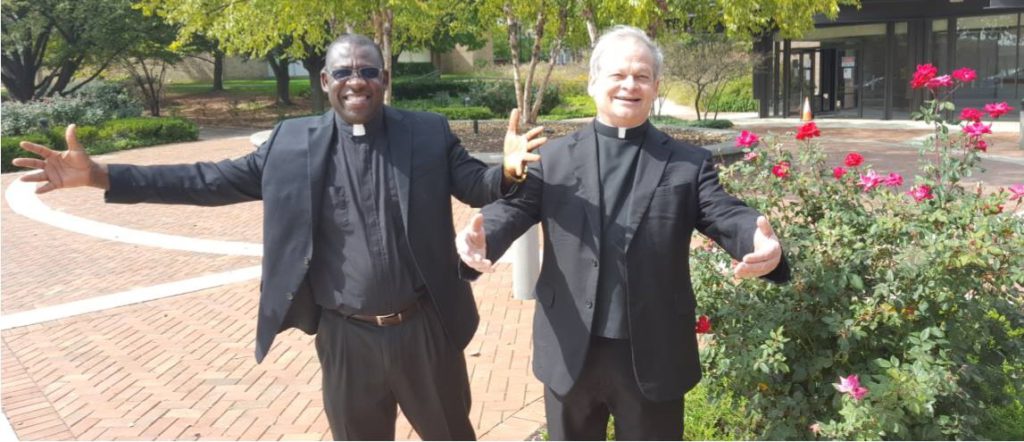 We are so happy to see many of you again! When this pandemic began, we sheltered in place, not only for ourselves, but to protect the most vulnerable among us. We are also strongly aware that there are still hot spots of increasing infection, which tells us that we must be patient, and diligent, with an abundance of caution. We are grateful for your continued sacrifice, and for being the shelter of one another at this perilous time.
Effective June 26-27, 2021, Archbishop Lori as well as our neighboring bishops lifted the General Dispensation from the Obligation to Attend Mass. We hope and pray that many of you will take the invitation an opportunity to return to our Eucharistic table and celebrate Mass in-person again as so many already have. Of course, this obligation does not apply to those who are ill; those who have reason to believe that they were recently exposed to the coronavirus or another serious or contagious illness; those who are confined to their home, a hospital, or nursing facility; or those with serious underlying health conditions.
Indoor Mass Information
What to expect (some changes due to covid precautions):
Masses are currently scheduled at the Wilde Lake Interfaith Center and the Oakland Mills Interfaith Center.
Mass at the Oakland Mills Interfaith Center is at 11:30 am only.
Our Masses are scheduled at least two hours apart in order for air recirculation and filtering.
There is no longer a reservation system for seating at any of our Masses.
In solidarity with those who are unvaccinated, especially our youngest members, we do ask that you still do Wear a Mask. This has us following recent CDC guidelines for all, vaccinated and unvaccinated, to wear masks while indoors.
Holy Communion is distributed on the hand only.
Parishioners are asked not to shake hands during the Sign of Peace (rather, wave respectfully to others), and not to hold hands during the Our Father.
Collection baskets are not passed during Mass; collection boxes are available outside the worship spaces, or you may make your donations online or by mailing a check to the parish office.
If you are unable to join us for whatever reason, we invite you to join us in spirit, through our Masses via streaming.
Outdoor Mass Information
No outdoor Masses are currently scheduled.
Mass Registration
Outdoor Masses take place in the parking lot of the Wilde Lake Interfaith Center. You are asked to register for the outdoor Mass to assist with planning, as well as to ensure our ability to assist with contact tracing, if necessary. Due to mandated restrictions, space will be limited.
You will receive a confirmation e-mail when complete. If possible, please print this to turn in when you arrive. If printing is not possible, please write the information down on paper to turn in when you arrive.
Remember to bring along printed registration information, wear a face mask, bring a chair, and travel with a gracious spirit as we return to our public celebrations of Eucharist together.
Mass Guidance and Expectations
Please review this this video in English or this video in Spanish for more information regarding expectations for participation.
If you are sick or someone in your family is sick, please do not come to Mass. If you are high risk or live with someone who is high risk, please consider not coming to Mass. The Archbishop has dispensed all from the obligation to attend Sunday Mass during the COVID-19 pandemic, and our Masses are streamed online. We miss you, but please stay safe.
Ushers will help direct you for parking, seating, and receiving Communion.
Seating positions are marked in the parking lot and plaza. Please bring your own chair to sit on.
Everyone must wear a mask, which covers the nose and mouth, throughout the entire Mass, except when receiving communion.
Please keep the social distancing requirement of 6 feet away from the closest person; however members of the same household may sit together.
Holy Communion will be distributed at the end of Mass, on the hand; please keep 6 feet away from the person in front of you. You can adjust your face mask to receive communion.
Wave respectfully to others during the Sign of Peace, rather than shaking hands or hugging.
There will be no congregational singing.
No bathrooms will be available.
---
Updates:
Emergency needs: The St. John's Conference of the St. Vincent de Paul Society (SVDP) is available to help parish families with emergency needs. Call their number and you will get a quick response: 410-964-1440
Safe Reopening: Please contact Fr. Ferdinand if you can volunteer to help ensure the health and safety of our community as we return to Masses and other parish activities.
Previous Covid-19 video messages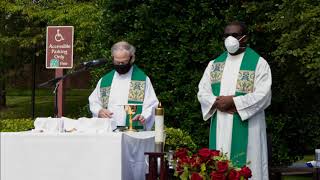 June 28, 2020 first outdoor Masses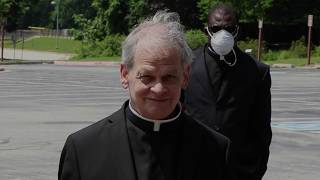 Outdoor Mass info - English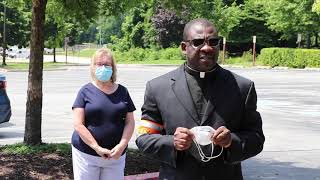 Outdoor Mass info - Spanish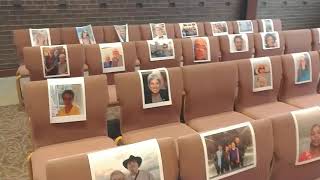 April 23, 2020 photos at WL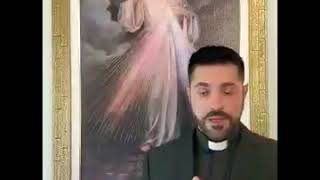 April 21, 2020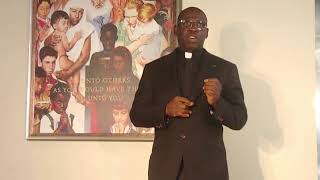 April 3, 2020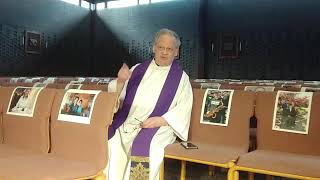 March 27, 2020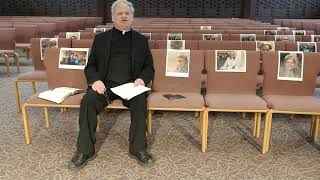 March 20, 2020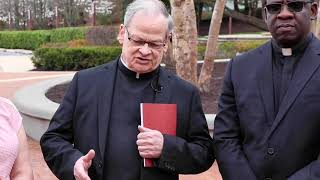 March 13, 2020
June 28, 2020 first outdoor Masses

Video and photos from the first two outdoor Masses

Outdoor Mass info - English

SJERC Parking Lot Mass Reopening

Outdoor Mass info - Spanish

SJERC Parking Lot Mass Reopening

April 23, 2020 photos at WL

Photos at WL

April 21, 2020

Padre Leandro

April 3, 2020

Fr. Ferdinand

March 13, 2020

Fr. Gerry, Fr. Ferdinand, Mary Bielefeld, Audrey Marsh
Photos of Mass during Pandemic