We know that there is a deep hunger in youth and young adults – a hunger for love, for truth, for meaning, for belonging, and for purpose that the culture alone cannot satisfy. We know that this hunger is truly satisfied in friendship with Jesus Christ, which is a friendship that leads to community in His Church, to faithful sharing of love and care for one another, and particularly those in need.
Middle School (7th and 8th Grade)
Our Middle School Faith Formation Program is held on Sunday afternoons from 6:45-8:00pm in-person at the Wilde Lake Interfaith Center. Middle Schoolers will learn more about their faith by exploring different topics, participating in small group discussions and a variety of games. Classes are offered in both Spanish and English.
High School (9th-12th Grade)
Our High School Program consists of:
Confirmation Preparation: Young people may begin their Confirmation preparation in high school. They're able to be Confirmed in 10th grade and require two years of preparation:
High School Youth Group: We are looking to get our youth group started and need volunteers. Please reach out if you are interested. Be on the lookout for upcoming events!
* All programs require previous registration *
New! Faith Formation Class Calendar 2022-2023
New! Confirmation Class Calendar 2022-2023
Sacramental Preparation – Teens (Grades 7th-12th)
The Rite of Christian Initiation for Adults is adapted for middle school and high school aged youth to prepare them to receive the Sacraments of Baptism, Reconciliation and Communion. Young people will participate in a series of classes to prepare. Contact Andrea Torres, 410-964-1425 x318 or andrea.torres@sjerc.org, to learn when the next session will be held.
New! Sacramental Preparation Calendar 2022-2023
Other Youth Information
Registration online (REGISTRATION ENDED Friday, September 2)
Print Registration Form
Worthy of the Call – training for youth volunteers (14-17 years old)
Young Adults
Looking to get plugged into the parish and form community with other young adults? Contact Andrea (andrea.torres@sjerc.org) to get more information about upcoming events.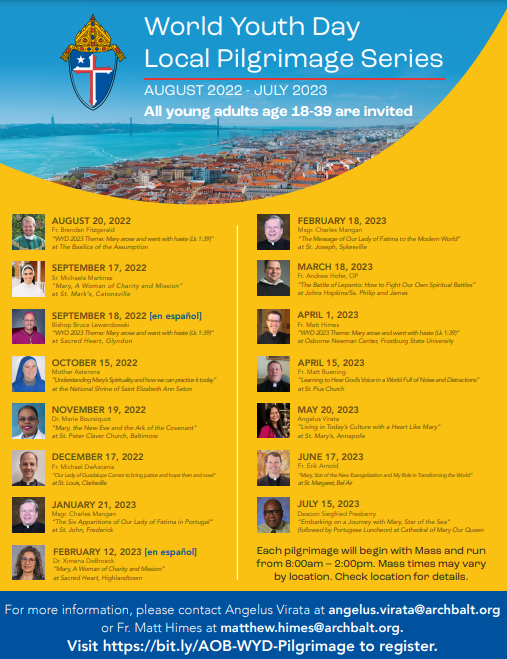 World Youth Day Pilgrimage Series – Archdiocese of Baltimore
In preparation for World Youth Day in Lisbon, the Archdiocese of Baltimore has designed a monthly half-day spiritual formation series for young adults that will be held every third Saturday of the month in various locations.
The local pilgrimage offers Mass, a dynamic talk, Eucharistic Adoration, Confession, food, and fellowship. This event is free, but registration is required.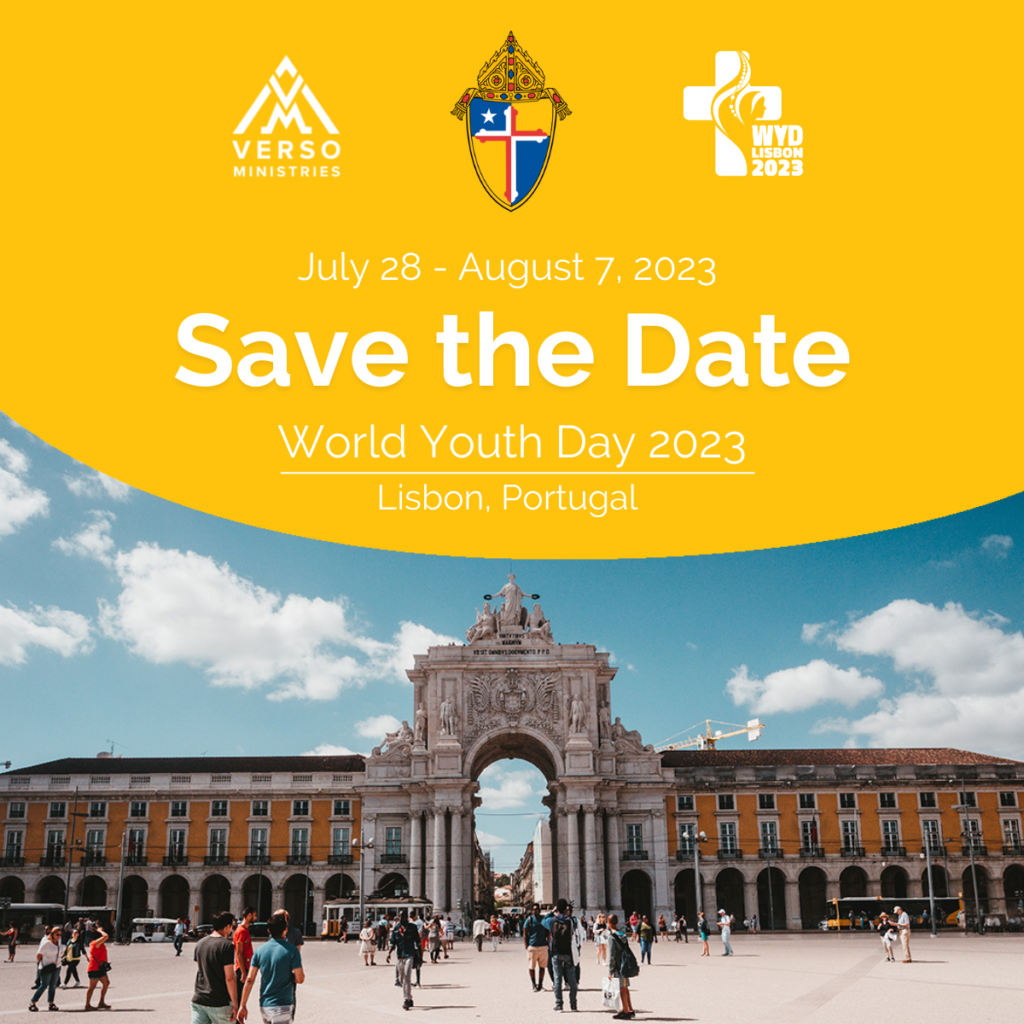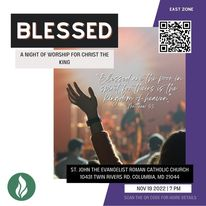 Christ the King Praisefest
BLESSED – A night of worship for Christ the King
Come and join fellow young adults for a night of worship for Christ the King!
November 19, 2022 | 7:00-9:00pm
St. John the Evangelist | Wilde Lake Interfaith Center
Sacramental Preparation – Young Adults
The Rite of Christian Initiation of Adults (RCIA) is a faith formation process in which adults become full, participating member of the Catholic Church by receiving the sacraments of initiation – Baptism, Eucharist, and Confirmation. Our RCIA program and volunteers serve individuals of another faith who wish to convert to Catholicism, individuals who were baptized in another Christian denomination and wish to become a member of the Catholic faith, and individuals who were baptized in the Catholic Church, but never received the sacraments of Eucharist and Confirmation. Individuals going through the process meet on Sunday mornings from 10:30am to noon.
Every week, Deacon Paul Gifford hosts gatherings for new and already-interested Inquirers. These are very informal gatherings to look at various aspects of our Catholic faith for those who aren't ready (and may not ever be ready) to transition into the church. If you are not Catholic but might like to be – give Paul a call! Contact: Deacon Paul Gifford, paul.gifford@sjerc.org.