Registration On-Line
Print Registration Form
Parent Volunteer Information
Calendar 2021 – 2022
2021 – 2022 Weekly Video Links
Week of September 19, 2021 – This is Your Year: Dreams and Plans
Week of September 26, 2021 – This is Your Year: All In
Week of October 3, 2021 – No Class – Please attend Appalachia Service Project meeting
Week of October 10, 2021- This is Your Year: Fears and Anxieties
Week of October 17, 2021 – This is Your Year: Make a Change
Week of October 24, 2021 – Care for Creation
Week of October 31, 2021 – No Class: Happy Halloween
Week of November 7, 2021- True 1: What God Sees
Week of November 14, 2021 – True 2: Fix You
Week of November 21, 2021 – No Class: Thanksgiving Break
Week of November 28, 2021 – No Class: Thanksgiving Break
MOST RECENT: Week of December 5, 2021 – Waiting 1: For Christmas
Week of December 12, 2021 – Waiting 2: For Christ
2020- 2021 Weekly video links
Week of September 27, 2020 – Who is my Neighbor?
Week of October 4, 2020 – Overflow: Expectations
Week of October 11, 2020 – Overflow: Forgiveness
Week of October 18, 2020 – Overflow: Service
Week of October 25, 2020 – Overflow: Overwhelm
Week of November 1, 2020 – No classes
Week of November 8, 2020 – Be Brave: Brave in the Unknown
Week of November 15, 2020 – Be Brave: Bravely Doing the Right Thing
Week of November 22, 2020 – Attitude of Gratitude
Week of November 29, 2020 – No Class
Week of December 6, 2020 – God With Us
Week of December 13, 2021 – Stations of the Nativity
Week of December 20, 2020 – No Class
Week of December 27, 2020 – No Class
Week of January 3, 2021 – No Class
Week of January 10, 2021 – Created to Love: Healthy Relationships
Week of January 17, 2021 – Created to Love: Decision Making
Week of January 24, 2021 – Created to Love: Chastity
Week of January 31, 2021 – Created to Love: Marriage
Week of February 7. 2021 – Souper Bowl of Caring
Week of February 14, 2021 – No Class
Week of February 21, 2021 – The Lost Son I (The Younger Son who Left)
Week of February 28, 2021 – The Lost Son II (The Older Son who Stayed)
Week of March 7, 2021 – The Lost Son III (The Merciful Father)
FaithWorks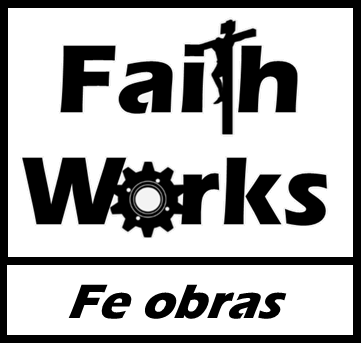 Our "weekly program" will be offered to your household through BRIEF youtube videos which will be broken up into three parts. While you can do a week's worth of program all at once, we hope that you take time and make this less than an hour's worth of programming. It is intended to be taken in small pieces for 10 – 15 minutes throughout your week.
Nuestro "programa semanal" se ofrecerá a su hogar a través de BREVES videos de YouTube que se dividirán en tres partes. Pueden hacer el programa de una semana de una sola vez, esperamos que se tome un tiempo y haga que este sea un programa de menos de una hora. Está destinado a tomarse en trozos pequeños durante 10 a 15 minutos durante toda la semana.
Each of the components will be based on the SEE-JUDGE-ACT model designed to help us "figure out" and address the situations around us. It is a great device for discernment and hopefully this year, while challenge, and provides us all an opportunity to walk away with a new skill on understanding truth and responding to it.
Cada uno de los componentes se basará en la Modelo VER-JUZGAR-ACT diseñado para ayudarnos a "resolver" y abordar las situaciones que nos rodean. Es un gran dispositivo para el discernimiento y, con suerte, este año, a la vez que desafía, y nos brinda a todos la oportunidad.
For more information, contact Scott Miller, scott.miller@sjerc.org
More about the Programs
Our first program is "Who is My Neighbor?" This will invite us to see—judge—act on the issue of Polarization (making someone else feel as 'other'). We will consider Jesus' parable of the Prodigal Son this week.
In October, we will look into a four-part Overflow series that examines how the love of God works in us and overflows into the lives of others. It follows texts from the Gospel of John and Revelation, exploring the themes of forgiveness of sins, spiritual healing, overflowing servanthood, and the overwhelming love of God.
Halloween weekend we will take a break.
Then we will resume starting November 7-8 for two weeks looking at "Bravery, It is not just for superheroes". It takes bravery to live a life sold out for Jesus. This two-week series examines two types of bravery: Brave in the Unknown (Deborah and Jael) and Bravely Doing the Right Thing (John the Baptist.
Youth Ministry Resources