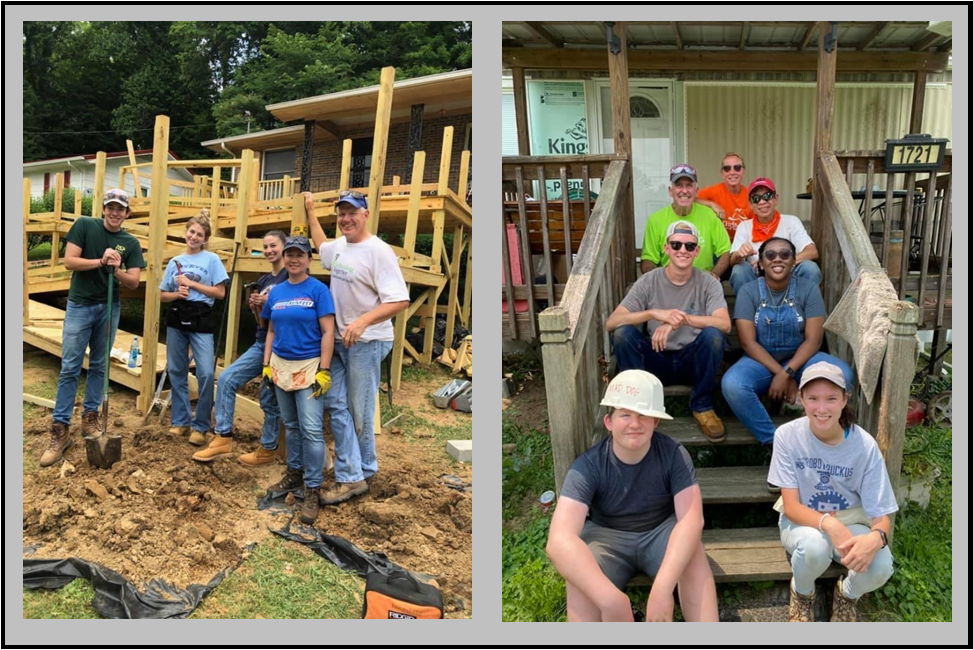 The St John Home Repair Ministry/Appalachian Service Project welcomes high-school age youth and adults to join us for your 2021-2022 program. The Kick-Off Event is Sunday, 3 October 2021 at 7 p.m. here at Wilde Lake Interfaith Center. Here is a video in which two of the ASP volunteers, a youth and adult, talk about why they participate in ASP
Video
Forms
Useful Information
About ASP
Since the Summer of 1980, St. John United, Inc. (SJU) having its home at the Wilde Lake Interfaith Center (WLIFC), has sponsored a Christian home repair ministry (HRM) that participates in the Appalachia Service Project (ASP). The "Appalachia Service Project is a Christian ministry, open to all people, that inspires hope and service through volunteer home repair and replacement in Central Appalachia." This group is open to all those interested in participating regardless of religious affiliation. In addition to serving in Appalachia, this group serves locally in Columbia and Howard County and consists of high-school student volunteers and adult volunteers (typically 23 years old and older). The local service has been an integral part of this ministry. The HRM is led and run by adult volunteers.
In the Fall of 1990, SJU invited St. John the Evangelist Roman Catholic Church (SJERC) to join them in this Christian Ministry of service following the example Jesus gave all disciples as he washed the feet of the apostles at the Last Supper (John 13:14-15 NAB Revised Edition) "If I, therefore, the master and teacher, have washed your feet, you ought to wash on another's feet. I have given you a model to follow, so that as I have done for you, you should also do." Each of the churches and the volunteers witnessed the power of Christ's love and grace in action through their combined efforts in this home repair ministry. We build on the foundation of God's unending grace and receive this opportunity to participate in this relational ministry to provide home repair in our local community and with the community in Appalachia through the Appalachia Service Project.
Since in the beginning, the ministry has been led by adult volunteers committed to establishing and maintaining a ministry that provides a safe, Christian environment that enriches the faith live of all volunteers, SJU and SJERC through making homes "warmer, safer and drier". Through the working of the Holy Spirit, each youth and adult volunteer brings their gifts and talents to this program dedicating themselves to this ministry with a generous heart. The volunteer leaders have given, and continue to give their, gifts and talents, guiding the program and working with leaders from both SJU and SJERC, to build and strengthen the program. The success of this program is a testament to the hard work and commitment to service of the past leaders of each church and of the volunteer home repair services ministry group. This program continues due to the strong commitment of all parties to the Christian ministry of service exemplified by HRM.